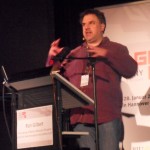 Yesterday Ron "Grumpy Gamer" Gilbert published a blog entry on his website discussing his ideas on how he would make a new Monkey Island game if he had the money, and, more importantly, the rights to the series.
This post is a must-read anyway, but I'd like to highlight some excerpts here anyway:
Three – It would be a retro game that harkened back to Monkey Island 1 and 2. […] Nice crisp retro art, but augmented by the hardware we have today: parallaxing, depth of field, warm glows, etc.  All the stuff we wanted to do back in 1990 but couldn't. […] It's authentic.  It doesn't need 3D. […]
Six – Full-on inventory.  Nice big juicy icons full of pixels. […]  They will be so nice you'll want to lick them. […]
Nine – I would rebuild SCUMM. […] It was a language built around making adventure games and rapid iteration. […] I'd build an engine and a language where funny ideas can be laughed about at lunch and be in the game that afternoon. SCUMM did that. It's something that is getting lost today.
Ten – It would be made with a very small team. Not 30 or 20, but 10 or less.  It means the game would take longer, but it would be more personal and crafted with love. […]
Eleven – […] I've spent too much of my life creating and making things other people own. Not only would I allow you to make Monkey Island fan games, but I would encourage it. […]
Seventeen – The game would be the game I wanted to make. I don't want the pressure of trying to make the game you want me to make. […]
Ron really knows his gig. I wish him all the luck in this world and say: thank you for the dreams!
Sincerely,
Christian
aka humaldo