The AdventureJam has officially started! The last couple of weeks we were busy to come up with a proper setting, story, and puzzle-design-outline and we're happy to be able to finally start working on the game!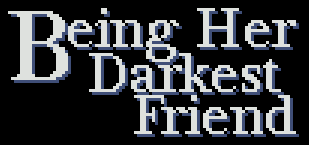 We have already decided on a name: "Being Her Darkest Friend". It will be a direct sequel to "A Fragment of Her", and this time the focus will lie on puzzles. So if AFoH was a bit to unchallenging for you, chances are high that "Being Her Darkest Friend" will meet your taste 🙂
We're planning to frequently update the project status on our twitter account, so please follow us to stay informed.
Happy GameJamming!